DESCRIPTION
The meter consists of three conductivity sensors (low range, medium range and high range), a temperature sensor and a stand alone embedded electronics for data acquisition cum display. Low range – Flow type conductivity sensor is connected to CH-1, temperature sensor to CH-2 and medium range - Vertical type conductivity sensor or high range - U tube type conductivity sensor (as per user application) to CH-3. The temperature sensor dipped in the solution of the conductivity cell is provided for normalizing the measured conductivity at 25ºC. All the three input channels can be configured for desired range of measurement with the corresponding pre-loaded, probe specific calibration-coefficients. The calibration-coefficients relating the output pulse frequency of the sensor, to the conductivity of solution being measured, are determined by an in-house developed multipoint calibration technique using a series of KCl standards. A sample calibration plot to determine the calibration coefficients is shown for the conductivity range 0 to 600 µS/cm where the measured frequency (f) is related to the conductivity of the solution (k) , by a fourth degree polynomial equation in (f).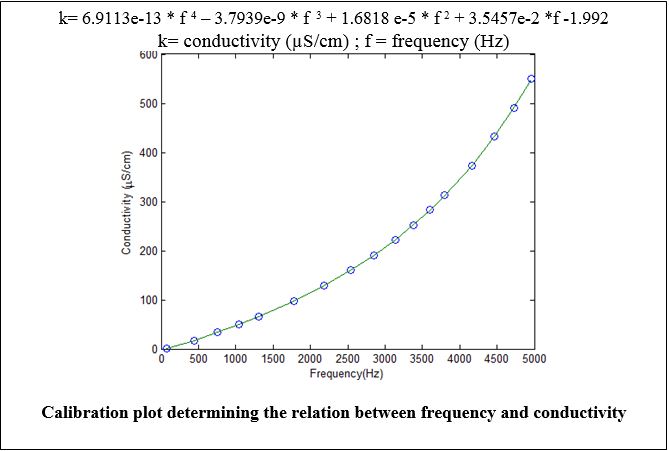 STAND ALONE DATA ACQUISITION CUM DISPLAY UNIT
Conductivity of the solution is directly displayed in the Liquid Crystal Display (LCD) provided in the embedded system or can be logged to a PC using serial communication port. The embedded display board consists of a three channel counter, microcontroller, LCD and an interface to communicate through RS232 port to PC. The pulses received from sensor are sent to a 16 bit counter interfaced with embedded controller, which counts the pulses for a fixed duration of time (gate time). The frequency is calculated by microcontroller, by registering the number of pulses and gate time. The microcontroller then converts the frequency to the conductivity of the solution using the pre-loaded appropriate calibration coefficients. Both frequency and conductivity are displayed in LCD and stored in a nonvolatile memory with time stamp. The stand-alone system is configured through a PC via serial port interface.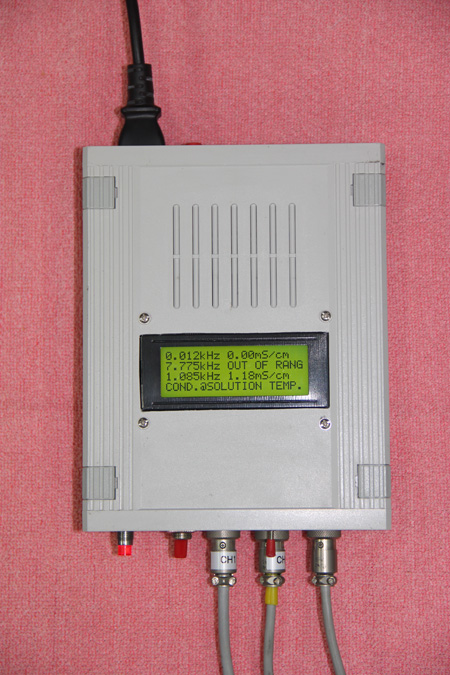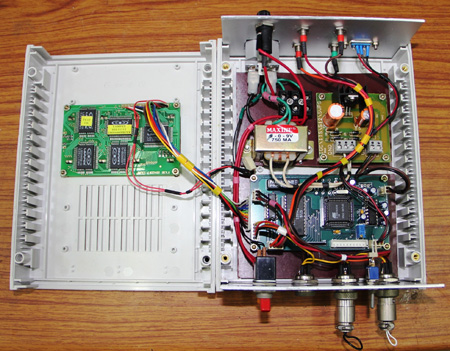 THE SALIENT FEATURES OF THE METER
Uniqueness

Pulsating type conductivity and temperature probe.

Range of measurement

Conductivity Range: 60nS/cm to 1S/cm 
Flow type Conductivity probe – 60nS/cm to 5µS/cm 
Vertical type Conductivity probe - 5µS/cm to 1000µS/cm 
U tube type Conductivity probe – 1mS/cm to 1S/cm
Temperature Range: 25°C to 45°C

Temperature normalization

Provision for temperature normalization (Display of conductivity is normalized at 25°C when temperature probe is connected). One input channel will be exclusively used for temperature probe. When it is required to measure conductivity at solution temperature, the temperature probe may be disconnected from the measuring instrument.

Display

Provided with a LCD display (4 x 20 characters) for display of conductivity in µS/cm or mS/cm and temperature in °C.

Probe output

A train of rectangular pulses of 5V amplitude.

Cable

 5-core shielded signal cables with 5-pin Gilard connectivity are used.

Power Supply

Mains power supply (230V AC, 50 Hz); but unit needs only 5 V DC power supply for signal generation.

Signal processor

Pulse counting in channels 1, 2 and 3, conversion of frequency to conductivity in CH-1 & CH-3 and conversion of frequency to temperature in CH-2 and normalization of conductivity to 25°C.

Precision

Relative standard deviation is ≤1.0 % for all three ranges of  conductivity probes.

Accuracy

< 2.0  % in the entire measurement range.

Resolution

Capable of monitoring conductivity shift by ≤ 0.02 µS/cm in the low range (60 nS/cm to 5 µS/cm), 0.1 µS/cm in medium range (1 to 1000 µS/cm) and 0.1 mS/cm in high range (1mS/cm to 1 S/cm).

Response time

< 1 sec

Calibration

Multipoint calibration using standard KCl solutions & resistance comparison method.

Signal transmission

High precision in measurement, direct digital signal from probe head, and transmission of signal to a long distance (~ 100 meter) without losing precision in measurement.

Data acquisition

Gate time and interval time user fed as per desired application

Operating temperature

Room temperature
APPLICATIONS
Industries – Chemical, Pharmaceutical, etc.
Quality control laboratories
Educational Institutions

TOOLS AND FACILITY REQUIREMENTS FOR FABRICATION
a. Mechanical fabrication
Lathe machine and required tools (facing tool, boring tool, turning tool)
Cutting and drilling machines, and tools like cutting wheel, drill bits
Enclosure for housing the electronics
b. Electronic fabrication
Soldering station
Work bench for assembling and testing of electronics
Printed circuit boards of power supply and signal processing board
c. Chemical laboratory based testing
Temperature bath for calibration of temperature probe
Weighing balance and KCl salt (GR grade)
DM water and pump to circulate solution
Magnetic stirrer, syringe, pipette, and mercury thermometer
d. Space
A room with 10 x 20 sq. m floor area to accommodate the above mentioned facilities.

e. Manpower Requirement
3 Members


1person with diploma in Electronics trade

1 person with ITI trade as Machinist

1 person with +2 qualification