Online Information Gateway: Lakshya, a Hindi word meaning Target, aims to provide Internet digital resources to BARC Scientists and Engineers for their Research & Development activities. This Online information gateway was setup and commissioned in December 2002 with online access to few hundred scientific and technical electronic journals.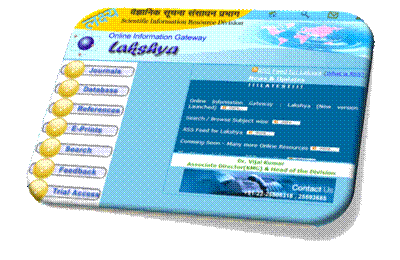 Currently more than 3100 E-journals and other E-Resources are available on Lakshya, a large number of them with full text.

A number of journals are covered under DAE Consortium in addition E-Journal archives against currently subscribed print journals in the Central Library including complimentary E-journals archives, are also available.
Apart from these, many journals, which are available freely, are also included in Lakshya. In coming months, many more journals and other E-resources would also be hosted on Lakshya.
Lakshya can be accessed through BARC campus wide Internet network connected PC either through ISDN telephone line or through browsing centers in most of the buildings of BARC.
Some of the Facilities available on Lakshya are:
Alphabetic list of journals - title wise
Alphabetic list of journals - publisher wise
Alphabetic list of journals- subject wise
Alphabetic list of online references - category wise
List of online Encyclopedias
List of trial resources
List of useful web sites
Online feedback submission
Search Lakshya