Current Assingment
Chairman and Secretary DAE
Shri K. N. Vyas, Director, Bhabha Atomic Research Centre, has taken over the charge of Secretary, Department of Atomic Energy and Chairman, Atomic Energy Commission from Dr. Sekhar Basu on 20.09.2018 at Vienna, Austria.
The transfer of charge took place in Vienna during the visit of Dr. Basu and Shri Vyas to attend the 62nd General Conference of the International Atomic Energy Agency.
.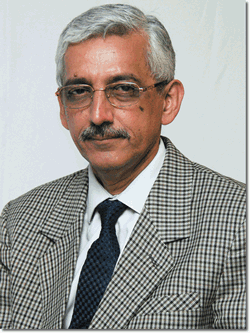 Shri Kamlesh Nilkanth Vyas
.
Former Director, Bhabha Atomic Research Centre (23 February 2016 - 12 March 2019)
Shri Kamlesh Nilkanth Vyas is a Mechanical Engineering graduate from MS University, Vadodara.  After completion of the training in the 22nd Batch of the BARC Training School in 1979, he joined Fuel Design & Development Section of Reactor Engineering Division of BARC. Mr. Vyas has worked for design & analysis of nuclear reactor fuels.  He was also responsible for design & development of a novel fuel for strategic applications.  He has worked extensively in thermal hydraulics and stress analysis of critical reactor core components.  Mr. Vyas, as an engineer, has played a key role for completion of strategic projects.  Mr. Vyas has also participated in design & analysis of the Test Blanket Module planned to be installed in ITER, France.   

Shri Vyas has been conferred several awards, which include Indian Nuclear Society Outstanding Service Award 2011, Homi Bhabha Science and Technology Award 2006, DAE Awards in the years 2007, 2008, 2012 and 2013. He is also a Fellow of the Indian National Academy of Engineers.